May 1, 2013
VICTORIA BC - Weighing in on the best April since 2010, Shelley Mann, President of the Victoria Real Estate Board, is cautiously optimistic that the Greater Victoria is back into a balanced market.
"Consumer confidence is increasing," Mann says. "Our total number of sales for April is 615, a 5% increase compared to April 2012 with 586 sales. On the residential side, more properties are selling, and slightly fewer are entering the market, so we are moving from a buyers' market to more balanced market conditions."
Mann's cautions that one month doesn't indicate a market trend, but is encouraged by increased showings by REALTORS®, the number of sales, and comments from other REALTORS® about multiple offers on properties.
Prices remained relatively flat, as predicted by Cameron Muir, Chief Economist of the BC Real Estate Association. There were 367 single family homes sold in April at a median price of $540,000, a 16% increase of homes sold over April 2012. Condominium sales were 149 at a median price of $265,000 and with 62 townhomes sold at a median price of $415,450. There are 4,585 active listings.
Total Waterfront Single Family Dwellings sold: 15, up 2 over April 2012
Total Non-waterfront Single Family Dwellings sold: 352, up 36 over April 2012
Single Family Dwellings sold over $1 million: 30 (5 over $2 million)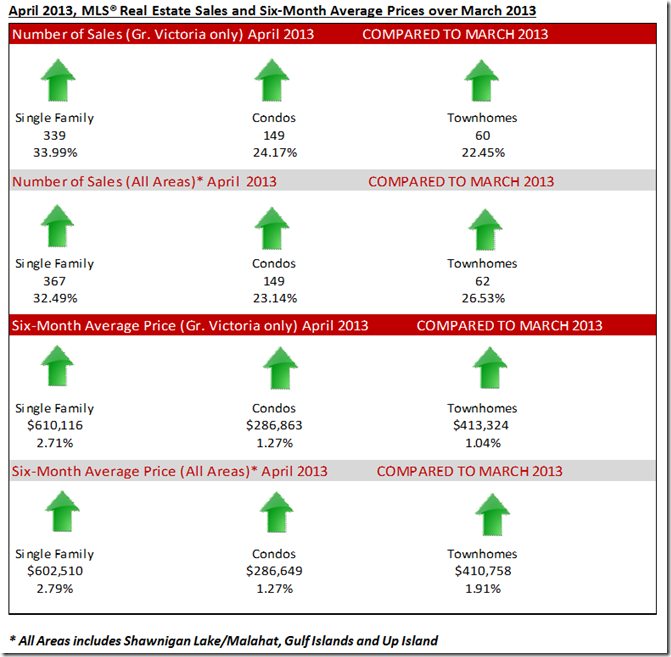 Total Single Family All Areas includes Shawnigan Lake/Malahat, Gulf Islands and Up Island
Summary Report and Graphs
Monthly Sales Summary
Average Selling Price Graphs
Active Listings, New Listings and Sales Graphs