Total MLS® residential sales for August 2012 was 462 compared to 542 for the same period in 2011. During the month, 240 single family homes sold throughout the Victoria Real Estate Board's region, 67 fewer than the 307 sold in August 2011. The average price for single family homes sold in Greater Victoria last month was $590,843, down from August 2011's average of $652,841. The median price is down by $17,000 to $530,000. There are 5,034 active listings.
"Sales are down 11.5% over August 2011" says Carol Crabb, President of the Victoria Real Estate Board. "When seasonally adjusted, there is little change from July 2012. It's a flat market which we suspect will continue for the next few months and not trending in either direction."
The overall provincial outlook is strong, with employers replacing part-time positions with full-time, and ongoing low interest rates. The British Columbia Real Estate Association predicts the resulting consumer confidence will move the provincial economy from flat to strong in 2013.
Other categories are also holding steady. Condominium and manufactured home sales are virtually unchanged over August 2011, while townhomes sales continue to be softer.
Total Waterfront Single Family Dwellings sold: 25, down 3 sales from 2011
Total Non-waterfront Single Family Dwellings sold: 215, down 64 sales from August 2011
Single Family Dwellings sold over $1 million: 10 (1 over $2 million)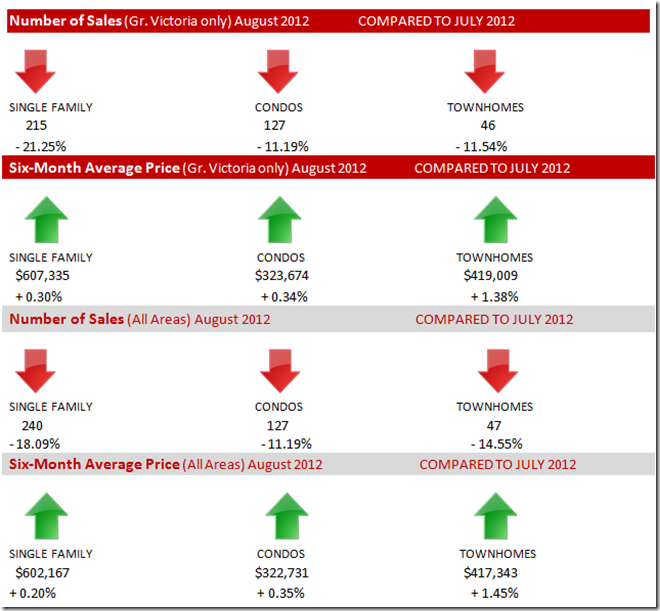 Summary Report and Graphs
Monthly Sales Summary
Average Selling Price Graphs
Active Listings, New Listings and Sales Graphs